A letter from the President
It was over 40 years ago when I accidentally stumbled into the printing business. I was hired by a large international company, famous for their copiers. On my first day, at orientation, I was told that paper wasn't going to be around very long, that the 'paperless office' was just around the corner.

Here we are in the 2020s and paper is still going strong! Many big firms are still trying to eliminate paper from our lives. Many of them saying that they are doing it for the environment.

We know better! Printing is a very important part of our society. Whether it's an examination, a promotional item, course materials, stationery or numerous other applications, they all serve an important purpose.

At Brown Book Company (BBC) Limited we have been looking after our customers' printing needs for over 35 years. We're a family owned business with two generations of Browns involved in the firm (and a third generation in training).

We will be here to look after your design, print, binding and distributions for many years to come!

If it's important, you will print it!

Bob Brown
President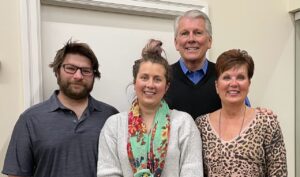 The Seven Point BBC Advantage
1. Your Full Service Print Provider
From design, to print, to bindery – we can do it all in-house!
Our Services
2. An Environmentally Friendly Printer
Let's Go Green together! We are both FSC and Rainforest Alliance certified.
Go Green
3. Ongoing Access and Convenience
With two Toronto locations, and extended service hours available, we can accommodate jobs of all sizes and deadlines.
Contact Us
4. Customized for Value
Because we know that your printed materials are a direct representation of you and your business, we work to put you in the most positive light.
Our Services
5. Confidentiality
With 24 hour CCTV monitoring, controlled entry access and numerous other precautions, we take the security of your documents very seriously. So seriously, that the Federal Government granted us with a Security Facility Clearance of 'Secret, Level 1'.
Security
6. Your Dedicated Team of Professionals
With over thirty five years experience, our firm is an established and recognized leader in the digital printing industry. Our complete and multi-functional team is here to help you every step of the way.
Our Services
7. Our Promise to You
The BBC Service Commitment guarantees the quality and service that you will receive.
BBC Commitment
Our Mission Statement
Founded in 1985, our mission has always been to provide our clients with the highest quality products and services possible in a timely fashion
and at a reasonable and competitive price. We will always be there with expert advice and quick, friendly customer service.
We aim to always exceed our clients' expectations when it comes to turnaround time, service and quality.

We will always aim to provide our services while still protecting the environment and offering our clients alternative choices which provide proven, incremental improvements to traditional methods. In other words, we will always attempt to educate our clients to a better way!

We aim to be excellent corporate citizens and always be fair to our employees, suppliers and staff by developing long lasting,
mutually beneficial relationships.
A Proud Canadian Printer Since 1985
If it's important, you will print it!™